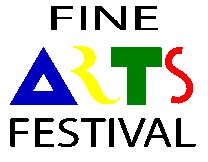 The Arts Council of Moore County (ACMC) created the Fine Arts Festival in 1980 to provide incentive for local artists to improve their technique and a place to showcase and sell their artwork. The festival has since grown into a major exhibit featuring artwork by artists from all over the country. The event also includes an art competition where the entries are judged in nine categories and $2,500 in cash prizes and ribbons are awarded.–
Congratulations to the following winners
of the 2014 FINE ARTS FESTIVAL

SARAH WILSON HODGKINS
"BEST IN SHOW" AWARD WINNER

"Fried Egg Bouquet I Am"
Category: Painting
By Paula Montgomery of Pinehurst, NC
–

LEE BARRETT
"PEOPLE'S CHOICE" AWARD WINNER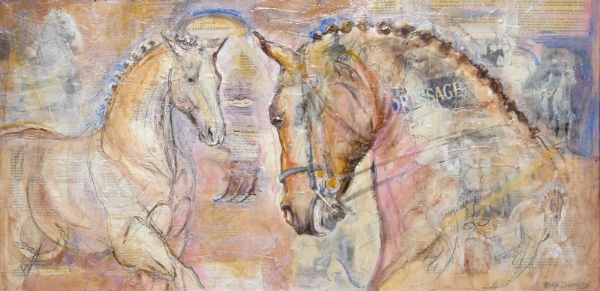 "The Art of Dressage"
Category: Mixed Media
By Betsey MacDonald of Clayville, RI

–
PAINTING
1st place: "Fried Egg Bouquet I Am" – Paula Montgomery (Pinehurst)
2nd place: "Projection of Power" – Douglas Rowe (Sanford)
3rd place: "Night Hunt" – Susan Newell (Pinehurst)
Honorable Mention:
"Green Eggs and Spam" – Joy A. McGugan (Lumberton)
"Flying Colors" – Pamela M. Swarbrick (Pinehurst)
DRAWING/PASTEL
1st place: "Pinehurst Boys" – Steve Opet (Fayetteville)
2nd place: "Jesse" – Carmen Drake Gordon (Carthage)
3rd place: "Three Vagabonds" – Ulli Misegades (Cary)
Honorable Mention:
"The Lion" – Christopher McCommons (Southern Pines)
MIXED MEDIA/PRINTMAKING
1st place: "Pop Poppies" – Lynne Goldhammer (Pinehurst)
2nd place: "The Lost Boys" – David Latham (Laurinburg)
3rd place: "Pine Cone Tail" – Denise Baker (Whispering Pines)
Honorable Mention:
"Autumn at Lake Mononk" – Mary Ellen Warren (Pinehurst)
PHOTOGRAPHY
1st place: "Turn on the Light" – Joy Watson (Emerald Isle)
2nd place: "Fire Cave" – Joyce Bramwell (Pinehurst)
3rd place: "Asheville" – Tom Reedy (Pinehurst)
Honorable Mention:
"The Big Blue" – Becca Leen (Pinehurst)
3-DIMENSIONAL
1st place: "Man of the Children" – Gloria Weldy (Pinebluff)
2nd place: "Fish Head Bell" – John Weldy (Pinebluff)
3rd place: "House Wren" – Don McCluskey (Aberdeen)
Honorable Mention:
"Guardian Frog" – Jossh Beann (Southern Pines)
2014 Judge: Katie Seiz, Gallery Director at the Durham Art Guild in Durham, NC
–
PURCHASE AWARDS
A Purchase Award is the opportunity for businesses and individuals to support the festival artists by pledging to purchase artwork prior to the festival. In addition to selling their artwork, the artist also receive a ribbon.
Robert Smith (Sanford), "Berry Berry Good" (Photograph)
Laurie Rich of Laurie Rich Catering
Lynn Goldhammer (Pinehurst), "Pop Poppies" (Mixed Media/Print)
Walker Morris of Muirfield Broadcasting
Betty Hendricks (Whispering Pines), "Rainy Day Shoppers" (Painting)
Lorraine Laslett of AutoWerks
Hannah Cole Buie (Rockingham), "Street in Provence" (Painting)
Pinky Doyle of Re/Max of the Pines
Amy Beshgetoorian (Clayton), "Manhattan Sunrise" (Painting)
Denis McCullough, ASID of Denis McCullough Interior Design
Paula Montgomery (Pinehurst), "Autumnal Patterns" (Painting)
Dr. Bill Terry, Women's Care Clinic of Pinehurst Surgical
Jeanette Sheehan (Pinehurst), "No. 3 Tree Series" (Painting)
Ginny Thomasson of Holden, Thomasson & Longfellow
Linda Piechota (Pinehurst), "Circling to the Top" (Photograph)
Dr. Tommy McDonell
Suzanne Foster (Pinehurst), "Carolina Wren Friends" (Painting)
Wendy Beaver of Parsec Financial Wealth Management
To go back to the main Fine Arts Festival page, CLICK HERE.