How to exhibit your work at the Arts Council Galleries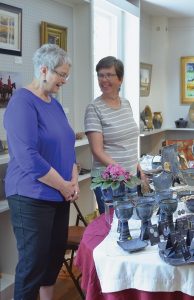 The Arts Council is committed to artistic excellence, diversity, and educating our community with visual art from talented artists–in Moore County and beyond. Artists who wish to exhibit their artwork in a Feature Art Exhibit or in our Sales Gallery may submit materials to us according to the guidelines below. No personal interviews will be conducted. Selection of artists is at the sole discretion of ACMC. All proposals are given careful consideration and selections are based on quality of art, diversity of exhibits, and the gallery schedule.
Exhibitions are selected and scheduled by our Visual Arts Committee, which is currently scheduling 2+ years in advance. These shows rotate on a monthly schedule, may be thematic in concept, and may combine fine art with craft. Group exhibits are also welcome.
The Sales Gallery contains a wide variety of original art from local and regional artists and a huge selection of pottery from the Seagrove area. Because of limited space, each artist may display up to two (2) works, which must be for sale. We also ask that the art remain on display up to 4 months.
Artist Submission Guidelines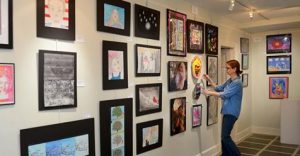 To be considered for an exhibit, please submit the following:
A current biography and/or resume detailing education, grants, fellowships, awards, teaching positions, gallery affiliations, exhibitions and collections. Please include your mailing address, email address, and phone number(s).
For a Feature Exhibit, include an artist statement related specifically to the body of artwork you wish to exhibit. You may also discuss the influences, research and inspiration that shape your work in terms of media, technique, and concepts.
10 to 15 digital images of work that will be available for exhibition. The images must include a related ID sheet listing title, medium, size, date, retail price, and a self-addressed-stamped envelope large enough for the return of materials. Submissions without adequate postage or envelope will become ACMC's property and will not be returned. ACMC makes every effort to safeguard submitted materials but cannot be responsible for loss or damage. Do not bring original work to the gallery, unless requested.
While we accept unsolicited exhibit proposals, ACMC only meets as needed to review proposals. Therefore, you may not get a quick reply to your exhibit request.
If chosen, the artist(s) is responsible for:
Delivery and removal of artwork to and from the gallery.
Preparation of artwork for display including framing, special installation needs, pedestals, etc.
Pricing of artwork – 90% of the artwork in a feature art exhibit must be for sale, and we require that 50% of the displayed art be priced in the range of $50-$800. ACMC's commission on all art sales is 35% of the retail price set by the artist.
Plans for and costs of the opening reception are normally provided by friends and family of the artist(s). We can give some guidance on the reception in terms of what to provide, costs and caterers.
The Arts Council will provide:
Art exhibit space within our galleries, which is protected by a monitored security system.
Hanging and display of artwork, including some pedestals (all white, various sizes).
Insurance on artwork from the time of delivery until the agreed upon removal date.
Printing, postage and mailing of exhibit invitations, plus press in print and on social media.
Help with reception (if needed), including cups, napkins, serving trays, punch bowls, some tablecloths, wine servers (if requested 2 weeks in advance), and assistance with clean-up.
If you have any questions, please contact Kate Curtin at 910-692-2787 or kate@mooreart.org.
Submissions should be sent to: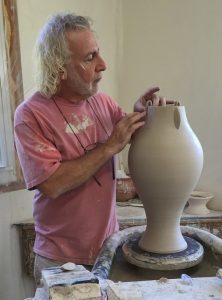 Mailing Address for Proposals:
Arts Council of Moore County
Attn: Kate Curtin
P.O. Box 405
Southern Pines, NC 28388
Delivery/Shipping Address for Proposals:
Arts Council of Moore County
Attn: Kate Curtin
482 E. Connecticut Avenue
Southern Pines, NC 28387
Email Address for Proposals: kate@mooreart.org