The Arts Council Galleries are located on the first floor of the historic Campbell House, which is located at 482 E. Connecticut Avenue in Southern Pines. As the home of the Arts Council's Visual Arts Programs, the galleries showcase artwork by local, regional and national artists in a variety of media. The art in the feature shows and Sales Gallery changes frequently, keeping every trip you make to the gallery fresh and new. View our Gallery Schedule.
History of Campbell House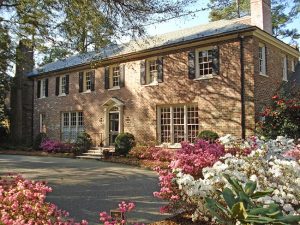 The core of Campbell House was once part of the original Boyd mansion that was located 100 feet in front of the present-day Weymouth Center. The older house had belonged to James Boyd, Sr., a steel and railroad magnate from Pennsylvania, who brought his family to Southern Pines in 1904 to establish an estate. After a fire damaged the older structure in the early 1920s, a section of the house was pulled across the street by teams of mules to become the home of Mr. Boyd's grandson, Jackson Boyd, at 482 E. Connecticut Avenue. In 1946, Major W.D. Campbell purchased the property, making extensive changes, such as facing the unpretentious frame structure with ballast-brick from Charleston, S.C. The same brick was used in the formal landscaping and walled garden at the rear of the house. In 1966 the Campbell family gave their property to the town, asking that it be used for the cultural and social enrichment of the community. True to their wishes, Campbell House continues to be fully utilized by the Arts Council of Moore County, Southern Pines Recreation & Parks Department, and many other cultural organizations.
A more complete history is available at Campbell House. Also, enjoy this article by Ray Owen published in the April, 2018 issue of PineStraw Magazine: "A Tradition of Culture".
Rent Campbell House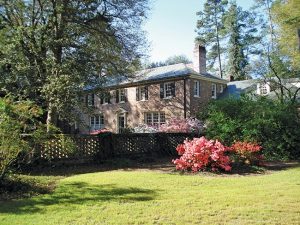 ACMC welcomes you to host your next meeting, small wedding, party, reception, lecture, or other special event within the charming ambiance of Campbell House in Southern Pines, North Carolina. Surrounded by a lovely, 14-acre public park and garden, Campbell House is a stately manor which functions daily as an art gallery and cultural center. Art exhibits change regularly and the gallery offers an elegant and warm atmosphere that will add to any special occasion. Space available to rent through ACMC is the first floor of Campbell House, including the kitchen and four gallery spaces, and the garden immediately through the Porch Gallery doors. If you are interested in reserving the Train House or another section of the park, you must call the Southern Pines Recreation & Parks Dept. at 910-692-2463.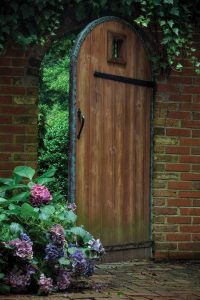 To see the rental rates, rules and restrictions for renting Campbell House, a list of equipment available for rent, and a list of suggested caterers, please download the rental contract below.
Download our Rental Contract (Click here if you need Adobe Reader.) For questions and other information, please contact Katherine MacRae at 910-692-2787 or via Email.