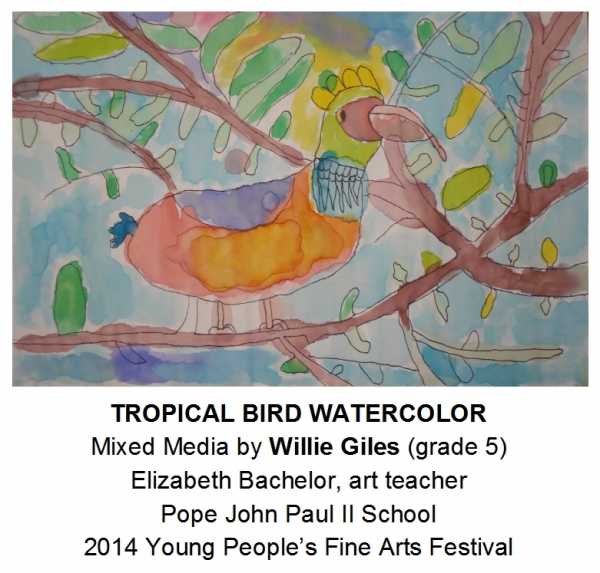 The Young People's Fine Arts Festival (YPFAF) is the Arts Council of Moore County's way of showcasing the artistic talents of students in grades K-12 from all Moore County public, private, charter and home schools. Chosen by each school, all entries are exhibited at Campbell House Galleries during March, "Art in Schools" month.
The exhibit is free and open to the public, thanks to the sponsorship of George W. Little & Associates, Wells Fargo Foundation, Town of Southern Pines, and Whistle Stop Press.
Downloadable the YPFAF Entry Guidelines coming soon!

The 2014 entry deadline:  To be determined.
YPFAF Official Opening Reception:  Fri., March 6, 2015 from 5-7 p.m.  For ALL grades, K-12.
In addition to the exhibit, the high school students' entries will be judged.  The winners will be announced at the High School Awards Ceremony on Thursday, March 5, 2015 from 5:30-7 p.m.
Exhibition Dates:  Exhibition dates to be determined
Location:  Campbell House Galleries (482 E. Connecticut Ave., Southern Pines, NC)
Weekday Gallery Hours:  Weekdays, 9 a.m. to 5 p.m.
Weekend Date & Hours:  Saturday, March 21, 2 to 4 p.m.
As always, thank you for your help and we look forward to "showing off" your students' talents in March! If you have any questions please contact Kim Sobat at 910-692-2787 or kim@mooreart.org.
Past Young People's Fine Arts Festival winners:  2011 | 2012 | 2013 | 2014