Current Exhibit:
JUNE 1-29 – THE PAPER SHOW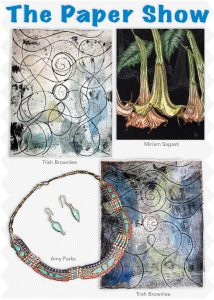 Showcasing works by military veterans:
Trish Brownlee (handmade paper)
Amy Parks (jewelry)
Also featuring:
Miriam Sagasti (scratchboard botanicals)
Opening Night Reception Sponsors:
Debra Mintz, Laura & Jeffrey Morgan,
Trish Brownlee, and Don Parks
Exhibit Dates: May 4-25, 2018
Opening Reception: Friday, May 4 from 6 to 8p
Gallery Hours: Weekdays / 9a to 5p
Weekend Date: Saturday, May 19 (2 to 4p)
Upcoming Exhibits
AUGUST 3-30
FINE ARTS FESTIVAL 2018
SEPTEMBER 7-28
BEYOND THE LENS
Featuring photos by members of the SANDHILLS PHOTOGRAPHY CLUB
OCTOBER 5-26
Art by Dian Moore (pottery), Jean Smyth (watercolor) & Louise Price (various media)
NOVEMBER 2-DECEMBER 15
PUPPIES & PONIES ~ POTS & PAINTINGS
Paula Montgomery (paintings), Anne Crabbe (pottery) & Morgen Kilbourn (sculpture)
Admission is free and open to the public on weekdays (9 a.m. to 5 p.m.), most 3rd Saturdays (2 to 4 p.m.), and by appointment. Arts Council members save 10% on any art purchases at Campbell House Galleries. So, Join Now!
Exhibit your Artwork
Learn more about how to Exhibit your Artwork at Campbell House.