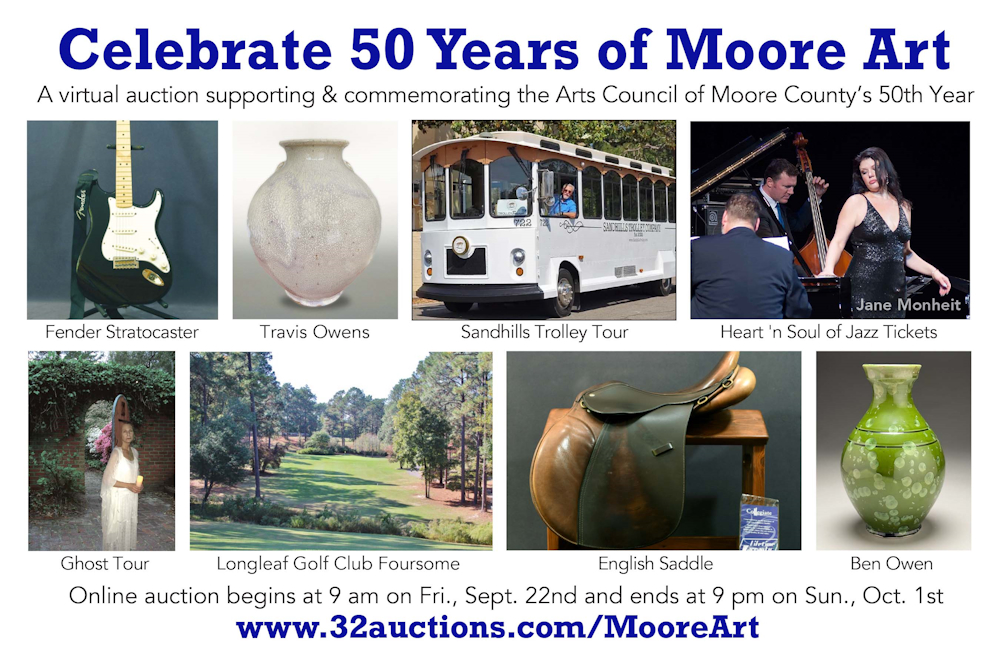 Auction Website: www.32Auctions.com/MooreArt
Bidding Period Begins: 9 am on Fri., September 22, 2023
Bidding Period Ends: 9 pm on Sun., October 1, 2023
Mark your calendars!! The Arts Council of Moore County and sponsors, Paula Caddell and Durant C. Holler III, announce an online auction scheduled from September 22-October 1, 2023. 50 Years of Moore Arts auction was organized by the Arts Council Board of Trustees to celebrate the 50th birthday of the Arts Council of Moore County. The auction features an amazing collection of one-of-a-kind artwork and other unique items and experiences, including:
Fender Stratocaster guitar & amp
Holiday Lights Tour by Sandhills Trolley Company
A night of acoustic music by the Shoppe Girls
Foursome at Longleaf Golf & Family Club
Pottery by Jugtown Pottery, Ben Owen III, David Stuempfle, and others
Original artwork by Jill Hooper, David Hewson, Meridith Martens, Sharon Ferguson, and others
Tickets to various local events, including the Heart 'n Soul of Jazz and Classical Concert Series
And more. It's a win-win event!
Please thank our sponsors: Paula C. Caddell & Durant C. Holler, III.
Proceeds from this event will provide critical operating support to the Arts Council of Moore County. Thanks for your help!
Visit www.32Auctions.com/MooreArt and place your bids!