When:
September 30, 2021 @ 12:00 pm – 2:00 pm
2021-09-30T12:00:00-04:00
2021-09-30T14:00:00-04:00
Where:
195 American Fusion Restaurant
195 Bell Ave.
Southern Pines
NC

Contact:
Arts Council of Moore County
910-692-2787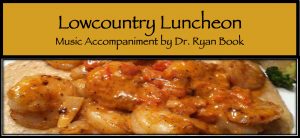 Lowcountry Luncheon at 195

Anna Pilson & the 195 American Fusion team along with the Arts Council bring the tastes of the Lowcountry to the Sandhills.
Inspired by Nathalie Dupree's New Southern Cooking, Anna Pilson, Chef & husband Decker Platt & the 195 American Fusion team reimagine a traditional Lowcountry meal by returning to its roots. Fresh organic produce from the local farms & market-fresh seafood from the Carolina coast will be the key ingredients to this Lowcountry Luncheon. Dr. Ryan Book, Chairman of the Fine Arts Dept. at Sandhills Community College, will fill the room with sounds of the classical guitar.
Cost is $55 per person. Space is limited. Make your reservation by calling the Arts Council at 910-692-2787.
This luncheon is part of a full series of events, called Lowcountry Styles: Architecture • Art • Cuisine. See below for the full schedule of Lowcountry events:
SCHEDULE OF LOWCOUNTRY EVENTS:
September 28 | 6pm | Sunrise Theater | Free
Lecture: Charleston Architecture: History, Sustainability & the Future with Patrick Web, Christopher Liberatos, Jenny Bevans, and Roderick Brower & Together-N-Unity Choir.
September 29 | 4pm | SCC's Little Hall | Free | RSVP 910-692-2787 (space limited)
Cooking Demo: Lowcountry Cooking Demonstration with Nathalie Dupree
September 30 | 12pm | 195 Restaurant | $55/person | RSVP 910-692-2787 (space limited)
Luncheon: Lowcountry Luncheon at 195 American Fusion with music by Dr. Ryan Book
September 30 | All Day | Various Moore County schools
Children's Author: Kelly Starling Lyons visits various Moore County Schools
October 1 | 10am | Moore Montessori Auditorium | Free
Talk & Book Signing: Food Heritage of the Lowcountry with Nathalie Dupree
October 1-29 | 9a-5p | Campbell House Galleries | Free
Art Exhibit: Lowcountry Styles, featuring art by Evelyn Dempsey, Carol Ezell-Gilson, Jill Hooper, Mark Horton, Alana Knuff, Ron Anton Rocz, and Patrick Webb
Masks & physical distancing requirements vary according to venue.
For details on each event, please visit www.MooreArt.org/Lowcountry-Styles.