"The world is a book and those who do not travel read only one page." ~ Saint Augustine
We invite you to experience the Arts Council's ARTours–arts-oriented trips designed to enrich your appreciation of familiar places and expand your knowledge of remote locations. Enjoy special museum visits, attend acclaimed musical and theatrical performances, visit artists' homes and studios, and enjoy points of cultural interest and unique experiences as you share the companionship of fellow Arts Council of Moore County members.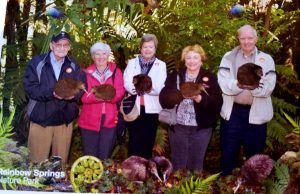 Our ARTours travelers recently returned from an AMAZING trip to New Zealand! From holding kiwis (the animal kind) to eating at fine restaurants to taking in the breathtaking scenery. It was a trip of a lifetime. We would love for you to join us on a future tour!
Arts Council members save a lot on our ARTours. So, Join Now!
UPCOMING ARTOURS…
---

March 13-15, 2020
Join the Arts Council for a flower-filled spring weekend in Charleston, a historic South Carolina seaport renowned for its landmark buildings, magnificent homes and gracious hospitality. The theme for the 2020 symposium was derived from the 100th anniversary of the Preservation Society of Charleston and the 100th anniversary of the Charleston Renaissance.
---
JORDAN & EYGPT
April 12-24, 2020
Explore the wonders of Jordan and Egypt with the Arts Council and Tauck on this 13-day cultural journey from the Dead Sea to Cairo includes a 3-night cruise along the Nile, from Aswan to Luxor aboard a luxury riverboat. Rediscover the lost city of Petra; Dine at a Bedouin camp in the desert; Tour ancient Egyptian tombs and temples with expert guides.
---
NC SYMPHONY GALA EVENING with
Renee Fleming, Branford Marsalis & Friends
Saturday, May 9, 2020
Meymandi Concert Hall, Raleigh
Get your seats for this special, one-night-only event when two superstars, Renée Fleming and Branford Marsalis, share the stage with the North Carolina Symphony under the baton of Grant Llewellyn.
---
SPOLETO FESTIVAL USA
May 22-26, 2020
Celebrating 44 years, Spoleto Festival USA fills Charleston, SC's theaters, churches, outdoor spaces, and galleries with world renowned and emerging artists in opera, theater, dance, music, and the visual arts. Set against the backdrop of historic Charleston's shops, restaurants and uniquely preserved historic downtown, Spoleto makes for a truly unique arts experience.
---
Impressions from the Seine:
PARIS TO NORMANDY
October 27 – November 4, 2020
Join the Arts Council & Tauck on a riverboat cruise down the River Seine to the coast of Normandy and back, featuring art and daily life in Paris, stops in historic villages and towns with a memorable visit to the beaches of Normandy.
---
EXPLORING THE DOURO
Plus Lisbon & Madrid
April 21 – May 3, 2021
Join the Arts Council and Tauck on a cruise through the heart of the world's oldest and most beautiful wine regions. Over 2,000 years of winemaking history are etched into the jaw-dropping riverscapes of the Douro as it meanders gently from its source in the mountains of northern Spain to Porto where it meets the Atlantic Ocean. Come for the history, the views, the tawny ports, ruby reds and Vinho Verde vintages the Douro is famous for, and a legacy of golden hospitality.
---
Important information for all ARTours: You should be in good physical condition to fully enjoy our tours. The Arts Council cannot provide individual assistance during the tours and therefore reserves the right to decline to accept anyone on a tour who has a physical condition that could create a hazard to him/herself or could impact the enjoyment of other travelers on the tour.
Cancellation Policy: 35% of the total cost will be withheld for cancellation after the "Register by" date on ALL ARTours. NO refunds will be made after advertised "Final payment" date unless substitute traveler is found—at which time transfer fees, if applicable, will be withheld. Trip cancellation insurance is highly recommended.
---
If you are interested in joining one of our ARTours, please contact Katherine MacRae at 910-692-2787 or via Email.