We invite you to experience the Arts Council's ARTours–arts-oriented trips designed to enrich your appreciation of familiar places and expand your knowledge of remote locations. Enjoy special museum visits, attend acclaimed musical and theatrical performances, visit artists' homes and studios, and enjoy points of cultural interest and unique experiences as you share the companionship of fellow Arts Council members.
"The world is a book and those who do not travel read only one page."
Saint Augustine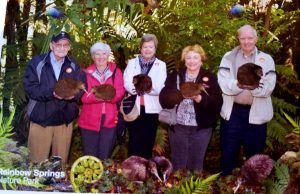 Our ARTours travelers enjoyed an AMAZING trip to New Zealand! From holding kiwis (the animal kind) to eating at fine restaurants to taking in the breathtaking scenery. It was a trip of a lifetime. We would love for you to join us on a future ARTour!
Arts Council members save a lot on our ARTours. So, Join Now!
---
UPCOMING ARTOURS…
---
NEW MEXICO
Land of Enchantment
September 30 – October 7, 2022
Step back in time to the Land of Enchantment: New Mexico! Explore Pueblo culture at Taos Pueblo, enjoy a raft trip down the Rio Grande, stroll through the spirited landscapes of Ghost Ranch, gaze at the vibrant works of Georgia O'Keeffe, and much more. It's New Mexico at its magical best!
---
Washington, DC
November 9-12, 2022
Think about our nation's Capital…its neoclassical monuments, buildings, and museums. View wonderful art at the National Gallery of Art, Hirshhorn Museum, Kreeger Museum, and more. See Washington, DC in a whole new light on a unique nighttime, guided tour. Beyond the obvious sights & sounds, enjoy the city's hidden and seldom visited treasures. This ARTour is limited to 12 people. Reserve your space today!
---
CHRYSTAL BRIDGES:
An Oasis of American Art & Architecture
April 27 – May 1, 2023
With the unveiling of the spectacular Crystal Bridges Museum of American Art in 2011, Arkansas suddenly hit the map for culture lovers around the US. Its excellent art collection built by Walmart heiress, Alice Walton, and its dynamic architecture by Moshe Safdie immediately made it one of the most important museums opened in America in the last 50 years. This one-of-a-kind tour introduces travelers to artistic and architectural masterpieces spread throughout northwest Arkansas.
---
Important information for all ARTours: You should be in good physical condition to fully enjoy our tours. The Arts Council cannot provide individual assistance during the tours and therefore reserves the right to decline to accept anyone on a tour who has a physical condition that could create a hazard to him/herself or could impact the enjoyment of other travelers on the tour.
Cancellation Policy: 35% of the total cost will be withheld for cancellation after the "Register by" date on ALL ARTours. NO refunds will be made after advertised "Final payment" date unless substitute traveler is found—at which time transfer fees, if applicable, will be withheld. Trip cancellation insurance is highly recommended.
---
If you are interested in joining one of our ARTours, please contact Katherine MacRae at 910-692-2787 or via Email.