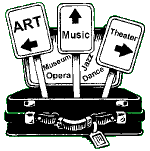 Welcome to the Arts Council of Moore County's ARTours, a selection of travel programs, custom-designed for Arts Council members. We invite you to experience our tradition of arts-oriented trips designed to enrich your appreciation of familiar places and expand your knowledge of remote locations. Enjoy special museum visits, attend acclaimed musical and theatrical performances, visit artists' homes and studios, and enjoy points of cultural interest and unique experiences as you share the companionship of fellow Arts Council of Moore County members.
"The world is a book and those who do not travel read only one page."
~ Saint Augustine
UPCOMING ARTOURS!
If you are interested in joining our ARTours, please contact Katherine MacRae.
Arts Council members save a lot on our ARTours.  So, Join Now!
 -
SMALL TREASURES:
Rembrandt, Vermeer, Hals, and their Contemporaries
Thursday, October 23, 2014 – Raleigh, NC

As details are being finalized on this ARTour, don't miss the NC Museum of Art's upcoming exhibition comprising of more than 60 exquisite, small-format works…virtual "Miracles in Paint"…showcasing the quality and skill of Dutch and Flemish artists. The show includes works by such masters as Frans Hals, Jan Steen, Judith Leyster, Adriaen Brouwer, Peter Paul Rubens, and Anthony van Dyck.  Also, enjoy time to explore two other exhibits at NCMA: Sacred Motherhood (focusing on representations of mother and child from the NCMA's permanent collection), and Line, Touch, Trace (highlighting hand-drawn works by N.C. artists who use graphite, ballpoint pen, ink or charcoal). More information to come. CLICK HERE to see the flyer on this ARTour.
---
NEW YORK CITY (Yes, New York City!)


November 13-16, 2014
[THIS ARTOUR HAS A WAITING LIST!]
Details are also being finalized for this popular ARTour to "The Big Apple", but here are some of the highlights:  3 shows, including "It's Only a Play" (starring Matthew Broderick, Nathan Lane, Stockard Channing, & Megan Mullally), "Bullets Over Broadway" (written by Woody Allen, with choreography by Susan Stroman); and "After Midnight" (featuring music by Duke Ellington performed by the Jazz at Lincoln Center All Stars.  Call us at 910-692-2787 to reserve your space.  CLICK HERE to see the flyer on this ARTour.
---
GUATEMALA:  Land of the Maya


February 5-15, 2015
Join our small group for a winter getaway to Guatemala—The Land of Eternal Spring. This exotic birthplace and heartland of the ancient Maya is loaded with incredible natural, historical and cultural wonders and experiences. Explore the monumental cities of the Maya, including a private guided visit to the temple and excavations at Tikal. Visit villages where the indigenous people live as they have for thousands of years. Ancient craft traditions—weaving, jade carving and others make for fantastic shopping. CLICK HERE to see the flyer on this ARTour.
---
ULTIMATE AFRICA:  Botswana, Zambia & Zimbabwe Safari


August 8-25, 2015
Don't miss this once in a lifetime African wildlife adventure as we tour Botswana's most pristine wildlife areas; explore two of Africa's most game-rich regions, the Okavango Delta and Zimbabwe's Hwange National Park, as well as Zambia's Kafue Park, home to 500 species of birds and an impressive 55 mammal species. All this and the thrill of Victoria Falls as well. CLICK HERE to see the flyer on this ARTour.
IMPORTANT INFORMATION FOR ALL ARTours
Note for all ARTours: You should be in good physical condition to fully enjoy our tours. The Arts Council cannot provide individual assistance during the tours and therefore reserves the right to decline to accept anyone on a tour who has a physical condition that could create a hazard to him or herself or could impact the enjoyment of other travelers on the trip.
ARTour Cancellation Policy: 35% of the total cost will be withheld for cancellation after registration deadline on ALL ARTours. NO refunds are made after advertised full payment deadline unless substitute traveler is found—at which time transfer fees, if applicable, will be withheld. Trip cancellation insurance is available on request.
If you are interested in joining any of these ARTours, please contact Katherine MacRae.