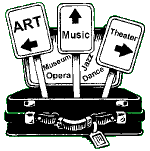 Welcome to the Arts Council of Moore County's ARTours, a selection of travel programs, custom-designed for Arts Council members. We invite you to experience our tradition of arts-oriented trips designed to enrich your appreciation of familiar places and expand your knowledge of remote locations. Enjoy special museum visits, attend acclaimed musical and theatrical performances, visit artists' homes and studios, and enjoy points of cultural interest and unique experiences as you share the companionship of fellow Arts Council of Moore County members.
"The world is a book and those who do not travel read only one page."
~ Saint Augustine
UPCOMING ARTOURS!
If you are interested in joining our ARTours,
please contact Katherine MacRae at 910-692-2787 or katherine [at] mooreart.org.
Arts Council members save a lot on our ARTours.  So, Join Now!
---

JOHNNY MATHIS & NC SYMPHONY


Saturday, February 20, 2016, Meymandi Hall, Raleigh

The legend returns to Raleigh with the NC Symphony for an evening of musical magic. Johnny Mathis will sing the songs you know and love, including Chances Are, Misty, Wonderful! Wonderful!, and more. This event is sure to sell out quickly, don't miss it!

CLICK HERE for more information.–

_______________________________________________________________________
ICELAND:  LAND OF FIRE AND ICE
July 26- August 4, 2016
It's been described as surreal, not just for its lunar-like landscapes–glaciers, lava fields, thermal lagoons and mountain ringed fjords–but also for the locals who live there.  Arctic tern, comical puffins, sea parrots, Icelandic horses, the elusive Arctic fox, whales of all colors and the Icelanders, whose maritime heritage dates back to the days of the Vikings.  This tour, operated by Tauck, embarks the sleek yacht, L'Austral, which outside-facing accommodations promise memorable views of Iceland's mystical landscapes.  This once in a lifetime journey begins in Reykjavik and includes Grundarfjör?ur, the tiny island of Grimsey, Akureyri, Westman Islands, the "Golden Circle" and the Blue Lagoon.
CLICK HERE for more information.
---
Important information for all ARTours: You should be in good physical condition to fully enjoy our tours. The Arts Council cannot provide individual assistance during the tours and therefore reserves the right to decline to accept anyone on a tour who has a physical condition that could create a hazard to him/herself or could impact the enjoyment of other travelers on the tour.
Cancellation Policy: 35% of the total cost will be withheld for cancellation after the "Register by" date on ALL ARTours. NO refunds will be made after advertised "Final payment" date unless substitute traveler is found—at which time transfer fees, if applicable, will be withheld. Trip cancellation insurance is highly recommended.
---
 If you are interested in joining any of these ARTours, please contact Katherine MacRae at 910-692-2787 or katherine [at] mooreart.org.