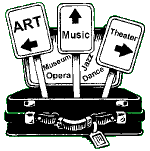 Welcome to the Arts Council of Moore County's ARTours, a selection of travel programs, custom-designed for Arts Council members. We invite you to experience our tradition of arts-oriented trips designed to enrich your appreciation of familiar places and expand your knowledge of remote locations. Enjoy special museum visits, attend acclaimed musical and theatrical performances, visit artists' homes and studios, and enjoy points of cultural interest and unique experiences as you share the companionship of fellow Arts Council of Moore County members.
"The world is a book and those who do not travel read only one page."
~ Saint Augustine
UPCOMING ARTOURS!
If you are interested in joining our ARTours,
please contact Katherine MacRae at 910-692-2787 or katherine [at] mooreart.org.
Arts Council members save a lot on our ARTours.  So, Join Now!
---
BEAUTIFUL:  A CAROLE KING MUSICAL
September 30, 2015 | DPAC, Durham

Beautiful:  The Carole King Musical tells the inspiring, true story of King's remarkable rise to stardom…..from being part of a hit songwriting team with her husband Gerry Goffin…to her relationship with fellow writers and best friends, Cynthia Weil and Barry Mann.  King became one of the most successful solo acts in popular music history.  She made more than just beautiful music, she wrote the soundtrack to a generation.
CLICK HERE for more information.
–
---
REYNOLDA HOUSE MUSEUM OF AMERICAN ART


Wednesday, October 7, 2015 | Winston-Salem

Enjoy a docent-led tour of the museum's feature exhibition: The Artist's Garden: American Impressionism and the Garden Movement, 1887-1920. Organized by the Pennsylvania Academy of Fine Arts, this exhibit includes representations of gardens across the U.S. and Europe, and tells the story of American impressionist artists and the growing popularity of gardening as a middle-class leisure pursuit at the turn of the 20th century. There will also be time to explore the historic Reynolda House Museum of American Art, located on the estate of Katherine & R.J. Reynolds, and housing one of the Southeast's finest collections of American Art from three centuries of painting and sculpture.
CLICK HERE for more information.
---
A GALA WITH RENEE FLEMING & NC SYMPHONY
October 11, 2015 | Meymandi Hall, Raleigh

This concert is a once in a lifetime chance to hear celebrated, internationally-known soprano, Renee Fleming perform beloved songs and arias from opera and stage for the first time with the North Carolina Symphony.
CLICK HERE for more information.
–
–
---
HEART OF ITALY:  Venezia, Firenze & Roma


October 17-25, 2015



On this special Tauck designed and directed tour you will see Italy in a whole new light!  We will travel off the beaten path, behind the scenes in three of it's most beguiling cities:  Venice, Florence and Rome.  Sights in Venice include a visit to Byzantine St. Mark's Basilica, a private boat excursion to Murano and lunch at the residence of a contessa which dates back to the 16th century.  While in Florence you will enjoy touring Signoria Square, an open air museum of sculptures, and a private showing of works by Giotta, Botticelli, da Vinci and Michelango at Uffizi.  Also included is an exclusive visit to the wine cellars of the Frescobaldi Family at the Castello di Nipozzano.  A walking tour in Rome introduces the travelers to the Pantheon, the extravagant fountains of Piazza Navona and the church of San Luigi del Franchesi.  An after-hours visit to the Sistine Chapel and Vatican Museums includes rooms not usually open to the public.  No crowds, just amazement!!  A coach tour provides a broader look at Rome, from Via Veneto to monumental Piazza Venezia, with stops at the Colosseum and Circus Maximus.   A culinary expert will delight your taste buds with a cooking demonstration at the Piazza San Cosimato food market.  This is truly a dream trip of a lifetime!!  CLICK HERE for more information.
–
–
–
_______________________________________________________
CHRISTMAS IN NEW YORK CITY


December 3-6, 2015

Enjoy the holiday lights, decorations, Christmas markets and Broadway's new Tony Award-winning best musical, "Fun Home".  Based on Alison Bechdel's best selling graphic memoir, features music by Jeanine Tesori, book and lyrics by Lisa Kron, and direction by Sam Gold, all of whom won 2015 Tony Awards for their work on this production.  The audience is introduced to Alison at three different ages, revealing memories of her uniquely dysfunctional family.  This intimate and emotional theatrical experience is performed entirely in the round.  Also included in this holiday trip are tickets to see "Hamilton — An American Musical", hailed by The Wall Street Journal as "the most exciting and signifcant musical of the decade"  Lin-Manuel Miranda takes the stage as the unlikely founding father determined to make his mark on the new nation.  George Washington, Eliza Hamilton, Thomas Jefferson and Hamilton's lifelong friend/foe, Aaron Burr, all make their mark in this astonishing new musical exploration of a political mastermind.  Accommodations provided at the historical Warwick New York Hotel, conveniently located in Mid-town and only a short walk to Fifth Avenue shopping, Radio City Music hall, MOMA, Broadway Theater District, Carnegie Hall, Central Park and man other attractions.

CLICK HERE for more information.
–
---

JOHNNY MATHIS & NC SYMPHONY


Saturday, February 20, 2016, Meymandi Hall, Raleigh

The legend returns to Raleigh with the NC Symphony for an evening of musical magic. Johnny Mathis will sing the songs you know and love, including Chances Are, Misty, Wonderful! Wonderful!, and more. This event is sure to sell out quickly, don't miss it!

CLICK HERE for more information.

–
---
 MOROCCAN DISCOVERY:  From the Imperial Cities to the Sahara


April 22 – May 5, 2016
Join the Arts Council on an adventure trip to Morocco, located just eight miles from  the Spanish coast, an exotic north African country that mixes Middle Eastern magic, Berber tradition and European flair.  Travel from the imperial cities of Rabat, Fez and Marrakech to the High Atlas and vast Sahara to experience a truly foreign land, an age-old culture and genuinely hospitable people.  Our tour operator, Odysseys Unlimited, has been named six times as one of the "World's Best Tour Operators" by Travel+Leisure.  CLICK HERE for more information.

–
–
—
–
–
–
–
---
Important information for all ARTours: You should be in good physical condition to fully enjoy our tours. The Arts Council cannot provide individual assistance during the tours and therefore reserves the right to decline to accept anyone on a tour who has a physical condition that could create a hazard to him/herself or could impact the enjoyment of other travelers on the tour.
Cancellation Policy: 35% of the total cost will be withheld for cancellation after the "Register by" date on ALL ARTours. NO refunds will be made after advertised "Final payment" date unless substitute traveler is found—at which time transfer fees, if applicable, will be withheld. Trip cancellation insurance is highly recommended.
---
 If you are interested in joining any of these ARTours, please contact Katherine MacRae at 910-692-2787 or katherine [at] mooreart.org.