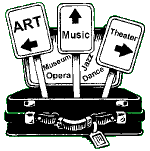 Welcome to the Arts Council of Moore County's ARTours, a selection of travel programs, custom-designed for Arts Council members. We invite you to experience our tradition of arts-oriented trips designed to enrich your appreciation of familiar places and expand your knowledge of remote locations. Enjoy special museum visits, attend acclaimed musical and theatrical performances, visit artists' homes and studios, and enjoy points of cultural interest and unique experiences as you share the companionship of fellow Arts Council of Moore County members.
"The world is a book and those who do not travel read only one page."
~ Saint Augustine
UPCOMING ARTOURS!
If you are interested in joining our ARTours,
please contact Katherine MacRae at 910-692-2787 or katherine [at] mooreart.org.
Arts Council members save a lot on our ARTours. So, Join Now!
---

LANG LANG, piano


Wednesday, March 1, 2017
Meymandi Concert Hall, Raleigh

The New York Times raves pianist Lang Lang is the "hottest artist on the classical music planet." Don't miss this one-night engagement when he performs the incomparable Grieg Piano Concerto with conductor Grant Llewellyn and the North Carolina Symphony. Prior to the concert, enjoy a wonderful dinner at Bloomsbury Bistro.

CLICK HERE for more information
---

CHARLESTON HERITAGE SYMPOSIUM
Family Collections & Inspiring Connections
March 10-12, 2017 – NEW DATE & ONLY 2 SPOTS LEFT!

Join the Arts Council for a wonderful weekend in the company of national and international decorative arts experts as they examine family collections and various English, Caribbean and Colonial American connections that inspired Charleston architects and artisans. Visit a period Charleston home opened by the owners for the Symposium. Enjoy a Bloody Mary breakfast and gala evening reception at a private home.
CLICK HERE for more information
---
2 EXHIBITS FOR THE PRICE OF 1
ANSEL ADAMS: Masterworks and
GLORY OF VENICE: Renaissance Paintings 1470-1520
Tuesday, March 28, 2017
NC Museum of Art, Raleigh

Join the Arts Council for a trip to the NC Museum of Art to view two exhibits: 1) ANSEL ADAMS: Masterworks (View photographs made late in Adams' life, revealing the importance he placed on the awe-inspiring power & beauty of our natural world.), and 2) GLORY OF VENICE: Renaissance Paintings 1470-1520 (Explore Venice's artistic & cultural evolution into an internationally recognized center of pictorial excellence.)
ARTour Schedule:
9:00a – Depart Campbell House for self-guided tour of Ansel Adams exhibit
11:45p – Lunch at Museum Café in East Building
1:00p – Docent-guided tour of Glory of Venice exhibit
2:45p – Depart museum for 4pm arrival at Campbell House
COST (per person):
ACMC Member: $112 | NC Museum Member $98
NC Museum members: Must give NCMA membership number at registration.
Full payment due with registration by March 6, 2017
Cost includes: Charter bus, exhibit entry fees, lunch, & admin. costs.
Call NOW to reserve your space! Call the Arts Council at 910-692-ARTS (2787).
---
NEW ZEALAND EXPERIENCE


April 13-29, 2017



It's a tale of two islands as our small group journeys with Odysseys Unlimited from New Zealand's North to its South, through lively cities and pristine fjords, past lush farmland and enchanted forests in a land where the outdoors is the national shrine. Add engaging "Kiwis" and intriguing indigenous cultures—It's a pure New Zealand experience!
CLICK HERE for more information
---
2017 SPOLETO FESTIVAL USA
May 26-30

, 2017



Charleston, SC
Spoleto Festival USA fills Charleston's historic theaters, churches and outdoor spaces with performances by world re-nowned artists, as well as emerging performers in opera, theater, dance, as well as chamber, symphonic, choral, and jazz music. Set against the backdrop of historic Charleston's sophisticated shops, restaurants, and uniquely preserved historic downtown, Spoleto makes for a truly unique experience.
CLICK HERE for more information
---
CANADIAN CAPITAL CITIES
August 23-September 1, 2017
This Tauck tour explores four distinctly different capital cities in eastern Canada—Toronto, Ottawa, Montreal and Quebec City—each with its own unique personality and cultural background. Enjoy multiple-night stays at landmark hotels, time to explore what makes each city special, a private tour of the Royal Ontario Museum with reception & dinner, a luncheon cruise along the St. Lawrence River, and more during this incredible 10-day trip.
CLICK HERE for more information
---
CLICK HERE for more information.
---
Important information for all ARTours: You should be in good physical condition to fully enjoy our tours. The Arts Council cannot provide individual assistance during the tours and therefore reserves the right to decline to accept anyone on a tour who has a physical condition that could create a hazard to him/herself or could impact the enjoyment of other travelers on the tour.
Cancellation Policy: 35% of the total cost will be withheld for cancellation after the "Register by" date on ALL ARTours. NO refunds will be made after advertised "Final payment" date unless substitute traveler is found—at which time transfer fees, if applicable, will be withheld. Trip cancellation insurance is highly recommended.
---
If you are interested in joining any of these ARTours, please contact Katherine MacRae at 910-692-2787 or katherine [at] mooreart.org.