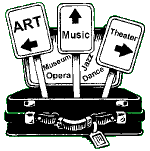 Welcome to the Arts Council of Moore County's ARTours, a selection of travel programs, custom-designed for Arts Council members. We invite you to experience our tradition of arts-oriented trips designed to enrich your appreciation of familiar places and expand your knowledge of remote locations. Enjoy special museum visits, attend acclaimed musical and theatrical performances, visit artists' homes and studios, and enjoy points of cultural interest and unique experiences as you share the companionship of fellow Arts Council of Moore County members.
"The world is a book and those who do not travel read only one page."
~ Saint Augustine
UPCOMING ARTOURS!
If you are interested in joining our ARTours,
please contact Katherine MacRae at 910-692-2787 or katherine [at] mooreart.org.
Arts Council members save a lot on our ARTours.  So, Join Now!
LANG LANG AND THE N.C. SYMPHONY
Meymandi Concert Hall, Paleigh, NC
Tuesday, February 25, 2015

SPACE STILL AVAILABLE!!
  Lang Lang has given recitals and concerts in many major cities and was the first Chinese pianist to be engaged by the Berlin Philharmonic, the Vienna Philharmonic and some top American orchestras.  The New York Times raves pianist Lang Lang is the "hottest artist on the classical music planet." Don't miss this one-night engagement where he performs the incomparable Grieg Piano Concerto!!
---
KINKY BOOTS – Durham Performing Arts Center
Friday, March 13, 2015

TWO
SPACES LEFT!!
Kinky Boots is the exhilarating Broadway musical that will lift your spirits to new high-heeled heights! Winner of six Tony Awards including Best musical, this inspiration story follows a struggling shoe factory owner who works to turn his business around with help from Lola, a fabulous entertainer in need of some sturdy stilettos. This unlikely pair find they have more in common than they dreamed possible…proving that when you change your mind about someone, you can change your whole world.  Parental Guidance: Adult themes.-_-
---
APRIL IN NEW YORK
April 22-26, 2015

Architectural Cruise Around Manhattan – Enjoy the splendor of the city aboard a 1920s style yacht, the Manhattan, hosted by members of the American Institute of Architects. This 3-hour cruise circumnavigates the entire island of Manhattan, viewing the architecture of the West Side, skyscrapers of Lower Manhattan, the icons of the East River, drinks and hors d'oeuvres included. This trip incluces the cruise around Manhattan, and two broadway plays, The King and I and  An American In Paris, free time to enjoy New York, a third Broadway show of your choice or spend an evening at one of New York's famous supper clubs.  CLICK HERE for more information.

________________________________________________________________________________________________
-
JOSHUA BELL, violin
Meymandi Concert Hall, Raleigh
May 12, 2015

Often referred to as the "poet of the violin," Joshua Bell is one of the world's most celebrated violinists. Enchanting audiences with his breathtaking virtuosity, tone of sheer beauty and charismatic stage presence – this is one event not to be missed!  CLICK HERE for more information.
__________________________________________________________________________________________________________________________
-
PIPPIN
Durham Performing Arts Center
May 15, 2015
This Tony-winning revival of Pippin is a 2.5 hour, high energy extravaganza that makes for a positively electrifying night of theater. Pippin tells the story of a young prince on a death-defying journey to find meaning in his existence. Will he choose a happy, but simple life? Or will he risk everything for a singular flash of glory? From the moment the Leading Player beckons the audience into the big top, the first-ever Broadway revival of Pippin is a sensational spectacle. As the story unfolds, acrobats fly through the air, contort themselves into impressive positions and perform classic circus tricks. Don't miss it!  CLICK HERE for more information.
---
SPOLETO FESTIVAL USA
May 28 – June 1, 2015

This popular ARTour features an incredible lineup of events for all art lovers, set against the backdrop of historic Charleston, with its sophisticated shops, restaurants, and uniquely preserved historic downtown. Join us for a truly "artful" experience!  CLICK HERE for more information.
-
---
SCENIC WONDERS OF THE SOUTHWEST: Zions, Grand Canyon, Bryce, Arches & Canyonlands
June 12 – 22, 2015

Our adventure begins in Las Vegas and continues to Utah's spectacular national parks, all rich in natural wonders and exceptional beauty. Zion with its massive stone formations, Bryce with its brilliant colored Hoodoos, Arches with thousands of natural arches, and Canyonlands with the Colorado River meandering around sheer cliffs. We travel south into Arizona to visit the more remote and less traveled North Rim of the Grand Canyon, a jewel in American's National Park Service.  CLICK HERE for more information.
---
CANADIAN ROCKIES & GLACIER NATIONAL PARK
August 17-27, 2015

On this Tauck directed adventure, we explore five awesome national parks and stay in storied luxury hotels as we tour the Canadian Rockies and Montana's Glacier National Park. Kootenay's canyons and hotsprings….alpine vistas and glaciers along the Icefields Parkway…a cruise on ice-blue mountain lakes…a ride in an Ice Explorer on Athabasca Glacier….luxury mountain resorts in Banff National Park, Jasper National Park and at Lake Louise….and so much more.  CLICK HERE for more information.
-
-
-
__________________________________________________________________________________________________________________________
IMPORTANT INFORMATION FOR ALL ARTours
Note for all ARTours: You should be in good physical condition to fully enjoy our tours. The Arts Council cannot provide individual assistance during the tours and therefore reserves the right to decline to accept anyone on a tour who has a physical condition that could create a hazard to him or herself or could impact the enjoyment of other travelers on the trip.
ARTour Cancellation Policy: 35% of the total cost will be withheld for cancellation after registration deadline on ALL ARTours. NO refunds are made after advertised full payment deadline unless substitute traveler is found—at which time transfer fees, if applicable, will be withheld. Trip cancellation insurance is available on request.
If you are interested in joining any of these ARTours, please contact Katherine MacRae at 910-692-2787 or katherine [at] mooreart.org.