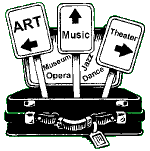 Welcome to the Arts Council of Moore County's ARTours, a selection of travel programs, custom-designed for Arts Council members. We invite you to experience our tradition of arts-oriented trips designed to enrich your appreciation of familiar places and expand your knowledge of remote locations. Enjoy special museum visits, attend acclaimed musical and theatrical performances, visit artists' homes and studios, and enjoy points of cultural interest and unique experiences as you share the companionship of fellow Arts Council of Moore County members.
"The world is a book and those who do not travel read only one page."
~ Saint Augustine
UPCOMING ARTOURS!
If you are interested in joining our ARTours, please contact Katherine MacRae.
Arts Council members save a lot on our ARTours.  So, Join Now!
ARTour TO MINT MUSEUM


Thursday, May 22, 2014 – Charlotte, NC


Don't miss this wonderful day-trip to see "Women of Vision: National Geographic Photographers on Assignment" and to the Mint Museum Randolph to see "Dior, Balman, Saint Laurent: Elegance & Ease" and "Bearing Witness: The New York Photo League & Sonia Heandelman Meyer". CLICK HERE to see the flyer on this ARTour.

-
SPRINGTIME IN YELLOWSTONE & GRAND TETON


June 14-23, 2014


[WAITING LIST STARTED]


This ARTour is sponsored by The Country Bookshop

By popular demand, we are repeating this exciting ARTour to accommodate those who missed our August ARTour. Escorted by our highly-regarded guide Peter Sinclaire, don't miss this chance to travel with us to the heart of the American west, with its awe-inspiring canyons, majestic mountains and wide-open spaces. CLICK HERE to see the flyer on this ARTour.
ST. PETERSBURG & THE BALTIC CAPITALS


August 5-20, 2014


[VERY FEW SPACES LEFT]


This ARTour is sponsored by The Country Bookshop

With the curtain lifted, finally we can see what lay behind…Now, sophisticated travelers can witness a world transformed. During this Odysseys Unlimited/ACMC ARTour, we visit four distinct nations, thriving capitals and provincial outskirts. Join us as we discover the fascinating heritage and contemporary life of this remarkable and diverse region. CLICK HERE to see the flyer on this ARTour.

-
SPOLETO FESTIVAL USA


May 26-30, 2014

This popular ARTour to the annual Spoleto Festival features an incredible lineup of events for all art lovers, set against the backdrop of historic Charleston, with its sophisticated shops, restaurants, and uniquely preserved historic downtown. CLICK HERE to see the flyer on this ARTour.

-
WASHINGTON, DC


September 10-13, 2014

Our nation's capital city is one of the most scenic in America.  Add to it the many galleries, museums, and performance venues, and you can't help but have a great time visiting. Included in this ARTour are visits to the National Gallery of Art, the Newseum-The Interactive Museum of News, Virginia Museum of Fine Art, and a performance by the National Symphony Pops featuring the fun band, Pink Martini.  CLICK HERE to see the flyer on this ARTour.
IMPORTANT INFORMATION FOR ALL ARTours
Note for all ARTours: You should be in good physical condition to fully enjoy our tours. The Arts Council cannot provide individual assistance during the tours and therefore reserves the right to decline to accept anyone on a tour who has a physical condition that could create a hazard to him or herself or could impact the enjoyment of other travelers on the trip.
ARTour Cancellation Policy: 35% of the total cost will be withheld for cancellation after registration deadline on ALL ARTours. NO refunds are made after advertised full payment deadline unless substitute traveler is found—at which time transfer fees, if applicable, will be withheld. Trip cancellation insurance is available on request.
If you are interested in joining any of these ARTours, please contact Katherine MacRae.