When:
April 6, 2020 @ 8:00 pm – 9:30 pm
2020-04-06T20:00:00-04:00
2020-04-06T21:30:00-04:00
Where:
Sunrise Theater
250 NW Broad St
Southern Pines, NC 28387
USA

Contact:
Arts Council of Moore County
910-692-2787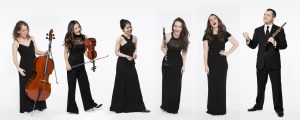 NOTICE: This concert is being rescheduled and we'll let you know the new date as soon as possible. At that time, all ticket holders will be given a choice to use their current tickets for the new concert date, receive a refund, or donate their tickets to the Arts Council.
Ensemble Mélange is a joyful sextet of all-star virtuosos that is shaking up the concert experience. Their concert is reformatted as a musician's party game; after each piece, members of the audience are chosen to pick the next piece from an extensive menu organized by style, nationality and time period. Whether you're eight years old or eighty years old, you'll leave charmed and punch-drunk on a piece you didn't know you were going to love.
This is the last of four concerts in the Classical Concert Series. The full series is Mark & Maggie O'Connor on 9/30/19; Pablo Sainz-Villegas, guitar on 10/21/19; Nathan Lee, piano on 3/9/20; Ensemble Mélange on 4/6/20.
Cost: 4-Concert Subscription Series is $90 for Arts Council members ($110 for nonmembers); Individual tickets (if available), $30 each ($35 for nonmembers).
Pre-Concert Dinner: Wolcott's Restaurant (160 W. Pennsylvania, Southern Pines) – $38pp (tax & tip included) – Reservations & payment required by April 2 by calling the Arts Council at 910-692-2787.