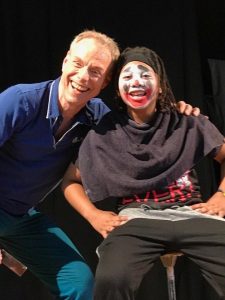 Since 1981, the Arts Council of Moore County and Moore County Schools have presented the Performing Arts in Moore Schools (PAMS) Program, with the goal to give every Moore County student a positive experience with a professional performing artist. This partnership has brought such outstanding artists to all students in the Moore County Schools, such as Billy Jonas, Living Rhythms, Bill Lepp, Susana & Timmy Abell, Trent Artberry, and The Beast, just to name a few. Each program has been carefully selected for quality, grade appropriateness and curriculum basis.
Artists interested in performing for students or hosting a workshop/residency should contact Kate Curtin by April 1, 2018 for the 2018-2019 school year.
The PAMS Directory will be published May 8, 2018 for local schools and administrators to review for the following school year. PAMS request for the 2018-2019 school year should be submitted by June 1, 2018.
If you have questions or comments about the PAMS program, please contact our Youth Program Director, Kate Curtin, at 910-692-ARTS (2787) or via Email.