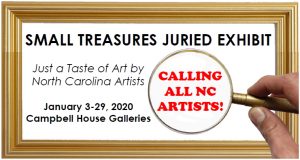 Download Small Treasures Entry Form
CALL FOR ENTRIES
EXHIBIT SCHEDULE
Submission Period Open: September 16, 2019
Mailed Entry Forms Due: November 15, 2019, 5 pm
Entry Fee Due: November 15, 2019, 5 pm
Emailed Entry Forms Due: November 15, 2019, midnight
Digital Images Due: November 15, 2019, midnight
Notification of Acceptance posted on ACMC website: November 22, 2019, noon
Artwork Delivery Dates: December 16-19, 2019, 10 am – 4 pm
Exhibition Dates: January 3-29, 2020
Opening Reception at Campbell House Galleries: January 3, 2020, 6-8 pm
Weekend Date Campbell House Galleries Open: January 18, 2020, 2-4 pm
People's Choice Award Winner Notified: January 24, 2020
Date to Pick Up Unsold Artwork: January 30 & 31, 2020, 10 am – 4 pm
NOTIFICATION
Artwork to be juried by the Arts Council of Moore County (ACMC) Visual Arts Committee—Molly Gwinn, Katherine MacRae, Paula Montgomery, and Nanette Zeller.
Jury results will be posted to ACMC's website (www.MooreArt.org) by noon on November 22, 2019. Please do not send email inquiry requesting notification confirmation until after November 22, 2019.
PEOPLE'S CHOICE AWARDS
1st Place – $100 | 2nd Place – $75 | 3rd Place – $50
Voting ends Jan. 22, 2020. Winners notified on Jan. 24.
ELIGIBILITY & REQURIEMENTS
•Artists must be at least 18 years old and residents of North Carolina.
•2D entries must be no larger than 13" on any side, including mat & frame.
•3D entries must be no larger than 12" in any dimension.
•All work must be for sale.
HOW TO ENTER
•The nonrefundable entry fee is $25 for submissions of up to 2 pieces.
•All images must be sent via email.
•Entry forms may be mailed or emailed as follows:
Mailed entries: Complete the attached form. Mail entry form with your check for $25 to ACMC, PO Box 405, Southern Pines, NC 28388. Mailed entries and payment due by 5 pm on November 8, 2019.
Emailed entries: Complete the attached form, then scan and email it along with your images to mooreartjury@gmail.com. Mail check for $25 to ACMC, PO Box 405, Southern Pines, NC 28388. Emailed entries and payment due by midnight on November 8, 2019.
Submission of digital images:
All entries must include one digital image of each submitted work (limit is 2 images).
•Digital images must be emailed to mooreartjury@gmail.com by midnight on November 8, 2019.
•Submitted images must be high resolution JPG format with no digital enhancements. Don't show the mat or frame and please orient the image correctly (horizontally or vertically).
•Image dimensions must be 1200 pixels or greater on the longest side.
•Image file size must be less than 2 Megabytes.
•Label/Name each image file as follows:
LastNameFirstName1.JPG (for the first entry)
LastNameFirstName2.JPG (for the second entry)
CRITERIA FOR ENTRIES
•ACMC reserves the right to decline any accepted artwork submitted by digital entry that deviates dramatically from the original image.
•Artwork must be original (no prints or copies), entirely the work of the artist and executed within the last two years.
•Artwork done under supervision (such as a workshop or class) is not eligible.
•No jewelry will be accepted.
•Artwork must be dry and ready for display. 2D artwork must be properly prepared for installation by being wired on the back (no alligator clips or hooks). 3D work must stand alone on a display base provided by ACMC.
•The Arts Council reserves the right to reject any work that does not meet their standards and has the final decision on installation. All decisions are final.
DELIVERY & PICKUP OF ARTWORK
•Accepted artwork must be delivered between December 16-19 (10 am – 4 pm) to ACMC at Campbell House Galleries, 482 E. Connecticut Ave., Southern Pines, NC.
•Attach Entry ID cards to the back upper left of the artwork.
•Hand delivery is preferred. Please contact ACMC in advance if you plan to ship your work.
•Pick up unsold artwork January 30 & 31, 2020, 10 am – 4 pm.
•Early delivery or late pickup is discouraged due to limited storage, so please be sure to deliver and pick up your artwork within the specified time periods.
COMMISSIONS, SALES, LIABILITY, RIGHTS & CONDITIONS
•All artwork must be for sale. ACMC will retain a 35% commission on all art sales.
•Artists whose art is sold during the exhibit will be notified.
•Artwork must stay on display until the close of the exhibit.
•Although reasonable care will be given to handling all art, the gallery will not be responsible for any loss or damage.
•The artist grants permission to ACMC to photograph and reproduce any art for publicity and educational purposes.
For more information, please contact the Arts Council at 910-692-ARTS (2787) or www.MooreArt.org.