Issue 8 – August 15, 2020
Presented by
Welcome to our eighth issue of Moore Art Share – COVID Edition, a digital collection of creative works from the Moore County community documenting how we responded to this strange time we find ourselves in. Scroll down to see the new submissions. They are listed in no particular order. And, if you are so inspired, please submit your own work.
Special thanks goes to everyone who submitted a COVID creation, the Arlington Public Library's "Quaranzine" for the inspiration to do something like this, and to The Sway, The Pilot, and Sandhills Magazine for spreading the word. Stay safe, keep sharing your COVID creations, and enjoy!
---
Robert Koechlin
Pinehurst, NC
"Illumination"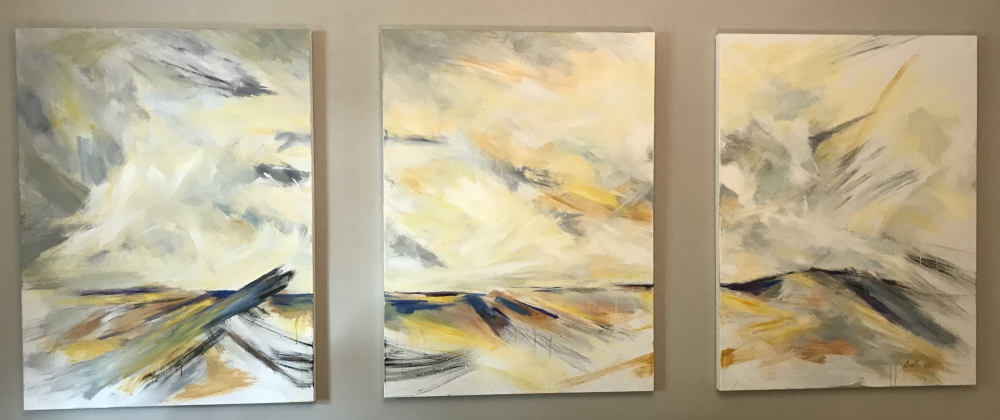 In the midst of COVD and chaos and the uprooting of our lives, light will shine through and illuminate a way forward.
---
Lillian Jean Dew
Aberdeen, NC
Age 0-10
"Love in Color"
Some of my favorite color.
---
Jane Harnum
Pinehurst, NC
"Manely Lion Around"
During COVID times, I feel it's important to try to bring a sense of humor to people during all this turmoil. Using a pun on words, "Manely Lion Around" suggests that we can be as lazy as we want since we are without schedules, feel sad if we choose, or simply stay safe by covering our faces. Painting detail somehow soothes my soul. Detail allows me to dial in on my inner feelings hopefully resulting in a painting that expresses how I'm feeling to viewers.
---
Mandy Hambel
Seven Lakes, NC
"Sunrise"
With nowhere to rush to, I sit out on my deck. At my side, lays Lacy all content after being walked and fed. I sit with my morning tea to watch the sunrise and the mist rising off the lake. It is a daily ritual of mine, but today it's not a normal sunrise. Maybe it's the dust storm I read about that has tinted everything. Maybe it is the universe trying to tell me something.
---
Anne Brechtelsbauer
Pinehurst, NC
"Alone at Home IV"
Click on the poem to enlarge.
---
Meredith Markfield
Pinehurst, NC
"Corona Flow"
"Corona Flow" was created with a couple of different techniques of fluid acrylic painting. This is a fairly new style of art that produces colorful, abstract paintings. Visit my website: www.artbymeredith.com.
---
Jude Winkley
Pinehurst, NC
"Explosion"
Painted with oils mixed with cold wax medium on a metallic gold acrylic base. 16″ x 16″ cradled (2″) panel.
---
Beth Ybarra
Pinehurst, NC
"Winston Napping"
Just before the virus took control of our lives, we welcomed Winston, our English Labrador, into our family. He is just 10 weeks old in this 11″ x 14″ acrylic painting. He is now 7 months old and 65 lbs. He continues to grow, nap and entertain us through the pandemic.
---
Ellen Burke
Pinehurst, NC
"Tomayto Tomahto"
Through the COVID experience, I have taken great comfort in my little gardens and planters. Gardening kept me connected to nature, and in a time when "normal" was no longer and each day held uncertainty, my little garden was a mantra of sorts. Nature knows what it needs to do and my little tomatoes grew from flower, to little green balls to tasty little additions to my salad. The garden provided distraction and comfort, so I decided to use various garden plants as subject in watercolor studies.
---
Paul Murphy
Southern Pines, NC
"Laura"
An inwardly reflective piano rendition of a standard written by David Raksin in 1944 for the movie, "Laura."
---