Issue 5 – July 1, 2020
Presented by
Welcome to the fifth issue of Moore Art Share – COVID Edition, a digital collection of creative works from the Moore County community that documents how we responded to this strange time we find ourselves in. Scroll down to see the new submissions. They are listed in no particular order. And, if you are so inspired, please submit your own work.
Special thanks goes to everyone who submitted a COVID creation, the Arlington Public Library's "Quaranzine" for the inspiration to do something like this, and to The Sway, The Pilot, and Sandhills Magazine for spreading the word. Stay safe, keep sharing your COVID creations, and enjoy!
---
Jane Harnum
Pinehurst, NC
"I'm Rooting for You"
This is a painting as part of my COVID series on "missing families." Many of us can't be with our children and grand-kids and pray they are doing well.
---
Martha Christian

Southern Pines, NC
Pandemic Musings:
"Hot Morning Sun at the Ocean"
This is one in a short series of six poems I wrote this year which express the emotional impact of Covid-19 in my life, and which I'd like to share with others who may be experiencing similar things.
---
Janice Blower
Pinehurst, NC
"Face Mask" Card
Being a former elementary teacher, I guess I have never stopped loving to color, cut and paste! These cards are meant to brighten someone's day during this pandemic.
---
Erika Heaney
Southern Pines, NC
"Historic House Reflect on Modern Times"
The House in the Horseshoe, built in Sanford in 1772 by Philip Alston and the site of a Revolutionary War battle in 1781, symbolizes the strength and resilience of a country and the ongoing beauty that persists despite our unsettled times. I chose to paint this watercolor as it brings back fond memories of a peaceful, warm summer night that was spent attending a stargazing event at this location with friends. Furthermore, the story of this structure serves as an appropriate metaphor for the challenges we face in our current times.
Like this historic structure, whose strong walls protected it during the Revolutionary War, we too are engaged in an ongoing war but with an invisible enemy that demands walls and protection. Now more than ever, we as a nation need to focus on our strength and resilience to conquer the challenges presented by COVID-19. Like the bullet holes found in this structure, there will be battle scars to be mended; but with the support of friends, family and the community we too will stand tall again. There is no better time than the present to reveal our hearts to others, come together, and open our eyes to the beauty that surrounds us.
---
Annie Brechtelsbauer
Pinehurst, NC
"Alone at Home II"
---
Ann Truemper
Pinehurst, NC
"On Edge"
So many people have been "On Edge" these last several months of being quarantined. This work is about being rigid, straight and hopeful to see an end of this pandemic through light.
---
Doris Gulley
Southern Pines, NC
"A Crooked Mile"
As things became "topsy-turvy" over the past months, I decided to do whimsy pieces for entertainment. "A Crooked Mile' is just one in a series.
---
Molly Thomas
Southern Pines, NC
"You Ask, I Answer"
---
Patricia Tocco
Seven Lakes, NC
Before Covid (B.C.)
or After Covid (A.C.)
A bride and groom chose the Valley of the Temples in Agrigento, Sicily as the backdrop for their wedding photographs. I happened upon them as their photographers took a break. I took a quick snapshot of the bride and groom resting. Was this photograph taken Before COVID (B.C.) or After COVID (A.C.)? It could go either way – before or after.
It was taken February, 2020 B.C. (Before COVID) at the Temple of Juno, 5th Century, B.C. My caption in February would have been: "The Pillars of Juno stood the test of time, will they?"
2020 A.C. (After COVID). What would my caption be now? It sounds better in Italian: "I nostri dolori non scuoteranno i pilastri della civiltà." Translation: "Our sorrows will not rock the pillars of civilization."
---
Candace Hitchcock
Aberdeen, NC
"Watching You"
This piece is a digitally enhanced photograph. The original image is designated "commercial free" with no copyright restrictions. It has been modified using various filters and brushes to achieve an enchanting watercolor effect and produced under the name of Gray Muzzle Graphics.
---
Kate Curtin
Southern Pines, NC
"I Tried Something New"
While I was cleaning out my office, I came across old tubes of oil paint, rusted palette knives, and damaged mat board. I was about to throw them away but instead, I took them home to try something new. I never really painted with oil before and I was pleased by how my sky and ocean were turning out. I took a break feeling quite happy.
On my way to the fridge, I passed a graduation cap/gown, a dusty tux, and discarded track spikes. My mood soured at a senior year that abruptly ended. I glanced at the news and well…. my mood soured even more. I walked back and rummaged through the pile of sticky tubes of paint for some gloomy colors. My disposition indeed changed the direction I was taking with my painting. Did my corona-virus infested advancing "storm" ruin the painting? Yes, yes it did and that is the point. Storms whether they are filled with strong winds, torrential rain, disease, violence, inequality, hate, rage, abuse, or ignorance do ruin things.
I looked at my painting and decided it was destined for the trash bin. However, the next day, I looked at the painting and I had a different perspective. I no longer saw the darkness closing in on my once serene picture. Instead, I saw the storm in retreat. It was retreating due to the hope of a new better day; one where people lift up the oppressed, stand up for what is right, look out for their world and all those that live in it, value all differences, repair what has been broken, and have the courage to create a better world. There will always be a storm in the picture but we need to always have hope, courage, and optimism so it doesn't engulf us.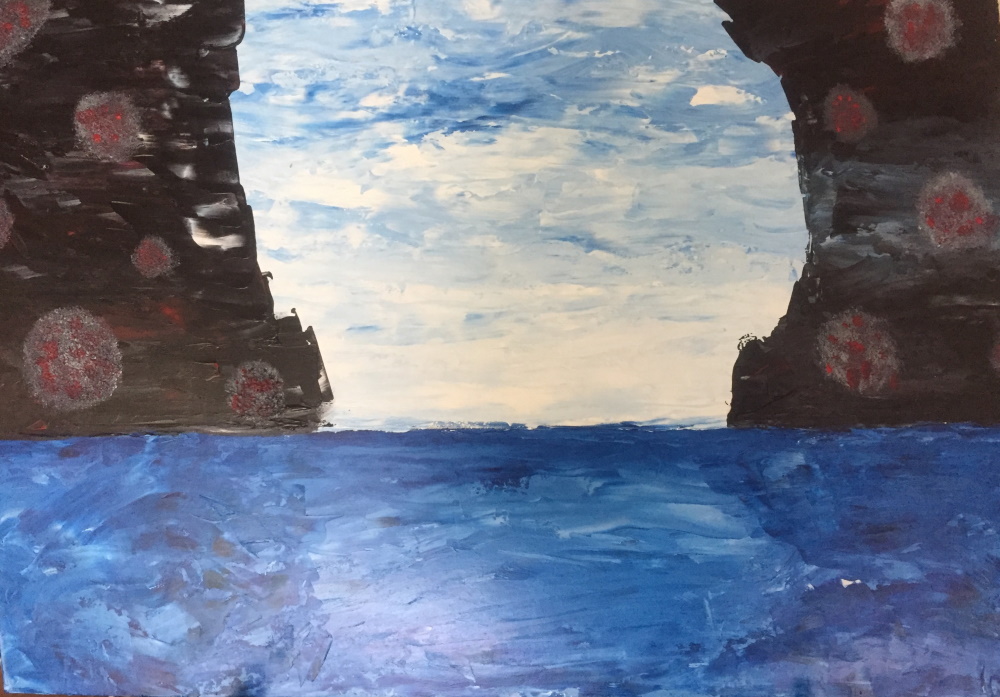 ---