Issue 12 – November 1, 2020
Presented by
Welcome to our 12th issue of Moore Art Share – COVID Edition, a digital collection of creative works shared from the Moore County community documenting how we responded during the pandemic. Scroll down to see the new submissions. They are listed in no particular order. And, if you are so inspired, please submit your own art.
Special thanks goes to everyone who shared their COVID creations, the Arlington Public Library's "Quaranzine" for the inspiration to do something like this, and to The Sway, The Pilot, and Sandhills Magazine for spreading the word. Stay safe, keep sharing your creations, and enjoy!
---
Dolores Muller
Pinehurst, NC
"After the Darkness
Comes the Dawn"
The world has been turned upside down by the pandemic but Mother Nature continues on and after the darkness comes the dawn.
---
Nicole Torres
Aberdeen, NC
"Art Journal"
Enjoy a peek into Nicole's art journal.
---
Penelope Pruitt
Whispering Pines, NC
Age 5
"Leaves"
Leaves painted with acrylics then pressed on canvas
---
Garrett C. Flagg
Southern Pines, NC
"Trembling Door"
Click the poem on the right to read.
---
Bear Pruitt
Whispering Pines, NC
Age 4
"Leaves"
Leaves painted with acrylics then pressed on canvas
---
Susan deYoung
Pinehurst, NC
"Sliced Pears"
Original oil painting of sliced pears.
---
Jane Harnum
Pinehurst, NC
"Seal-Mates"
Global warming is on our minds. Wildlife doesn't have a voice, but we do. Protecting animals and their habitats is up to us. These seals depend on clean water and beaches so they can continue to be "seal-mates".
---
Adele Buytenhuys
Jackson Springs, NC
"Peace"
20″ x 20″ acrylic painting. After I finished the painting of the lion, I realized that there was a peace sign on his forehead. It was so fitting for our world today that I did not add any brushstrokes.
---
Chris Dunn
Southern Pines, NC
"Crystal Lake Sunrise"
During COVID, getting outside in the fresh air has been a necessity. Enjoying a bike ride with my son, walking the dog, or even doing the dreaded yard work has made the pandemic seem less challenging. After buying a new (to me) kayak, I decided to take its maiden voyage on a new (to me) lake in Moore County. So, on a recent day off from work, I got up before the sun and drove to Crystal Lake in Lakeview. As the sun was rising, I turned the kayak around and saw this gorgeous sunrise. I give all the credit for this photo to Mother Nature and the camera app on my phone. I hope you enjoy it too.
---
Moore Philharmonic Orchestra
Virtual Fall Concert:
"An Evening with Strings"
The Moore Philharmonic is very excited about its upcoming virtual fall concert. They will miss having a live audience and the opportunity to meet their supporters. Like always their concert will be free, however, they graciously accept donations. To make a donation, please visit their site at www.MPOrchstra.com.
The concert will stream free on YouTube starting at 6:00 p.m. on October 31 and available through November 21, 2020. Click the poster to the right to view video.
Moore Philharmonic thanks you for your continued support and hopes you will enjoy watching their virtual concert over and over!
---
UPCOMING EVENTS



NOVEMBER 6-DECEMBER 19
ART EXHIBIT AT CAMPBELL HOUSE:
"Moore Artful Women"
Featuring Moore County artists Beth Garrison, Paula Montgomery, Fay Terry & Mary Wright. Our Gallery Opening will require an RSVP to reserve a 30-minute time slot between 6 & 8 pm by calling 910-692-2787. Walk-ins will not be allowed. Masks are required once inside Campbell House at all times – no exceptions. Campbell House Galleries are open weekdays (9a-5p) and Sats., Nov. 21 & Dec. 19 (2-4p). Learn more.
GIVEN MEMORIAL LIBRARY,
TUFTS ARCHIVES & GIVEN BOOK SHOP
NOW OPEN TO PUBLIC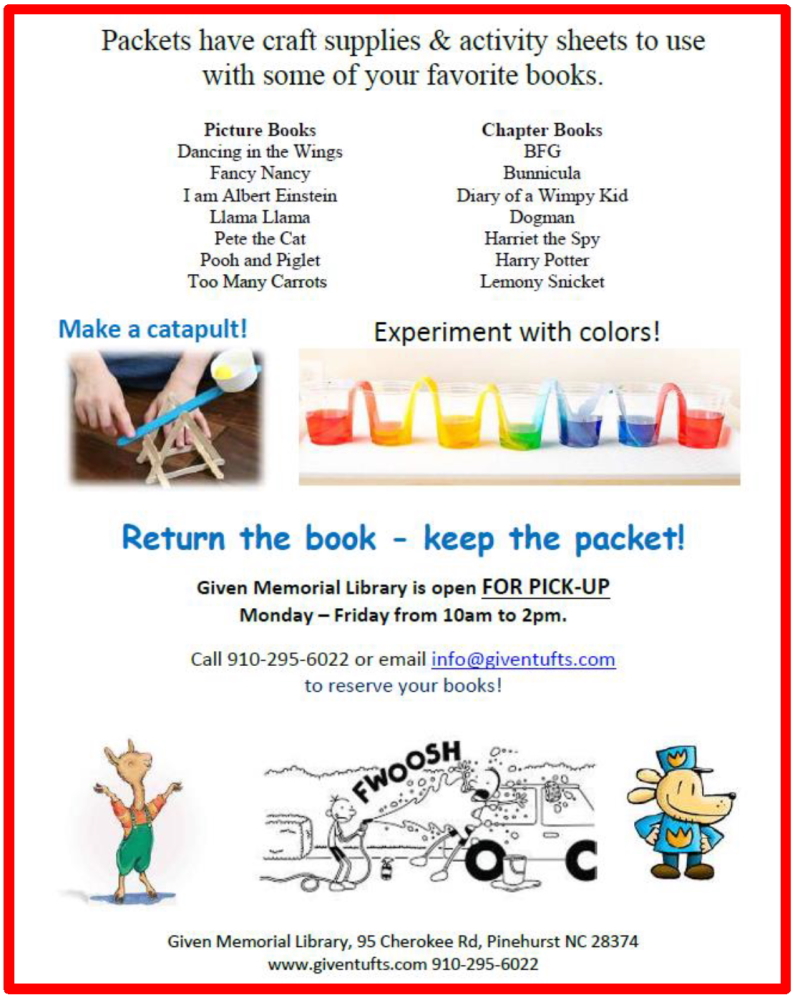 10a to 2p on Tuesdays, Wednesdays & Thursdays with limited in-house browsing & inside checkout. Limited number of customers will be allowed and masks are required for entry. Pick up book orders at the library & book shop on Monday & Friday, 10a-2p. Programs & events will occur at later dates.
Given Memorial Library – Drop off returned books in exterior book drop.
Tufts Archives – Call ahead for research appointments.
Given Book Shop – Book donations are NOT possible at this time.
Also, check out Given's Reading Packets by clicking on the poster to the right.
---
Enjoying Moore ArtShare?
Please give a donation to the Arts Council of Moore County & Given Memorial Library to keep future issues of Moore ArtShare coming. Now, more than ever, we need your financial support to continue offering our many programs and services throughout our community. Click the donate button below to make a secure, online donation that will be shared by the Arts Council and Given Library. Thank you.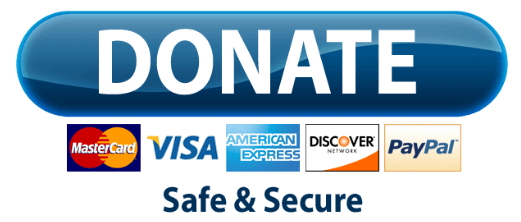 ---