Issue 1 – May 18, 2020
Presented by
Moore Art Share – COVID Edition is a collection of creative works from the Moore County community that documents how we responded to this strange time we find ourselves in. Scroll down to see what was submitted for our first issue. They are listed in no particular order. And, if you are so inspired, please submit your own work. We are working on Issue 2 now.
Special thanks goes to everyone who submitted a COVID creation, the Arlington Public Library's "Quaranzine" for the inspiration, and to The Sway, The Pilot, and Sandhills Magazine for the promotion. Keep your COVID creations coming. Please enjoy!
---
Nanette Zeller
Southern Pines, NC
"Sketchbook Sessions: The Redwoods"
During the Stay at Home orders, I started a regular practice of sketching. The Redwoods is in remembrance of my several visits to San Francisco Bay Area during 2019. I am not sure I will ever be back, but am grateful I have these memories
---
Lisa Richman
& Dean Segovis
Pinehurst, NC
"Covid Firescreen"
It is poky and sharp like the Corona virus but made out of useful things that have served many purposes. There are parts of cars and motorcycles (break rotor) that took people places. There are cheese graters that helped create and enhance meals. There is silverware that people used to eat meals. To round it all out, there are tools and other items that helped people create, fix and make things.
---
Janie Monroe
Southern Pines, NC
Bob Dylan's "Times They are a Changing"
---
Libby Cornett
Whispering Pines, NC
"Heavyhearted; COVID-19"
The bright blue mask signifies that the virus is here and alive, yet the world is dark and tired from the lack of movement (quarantine).
---
Patricia Tocco

West End, NC
"The Purpose of Manes"
The one place horseman go for comfort – their horses' manes.
---
Joseph Hill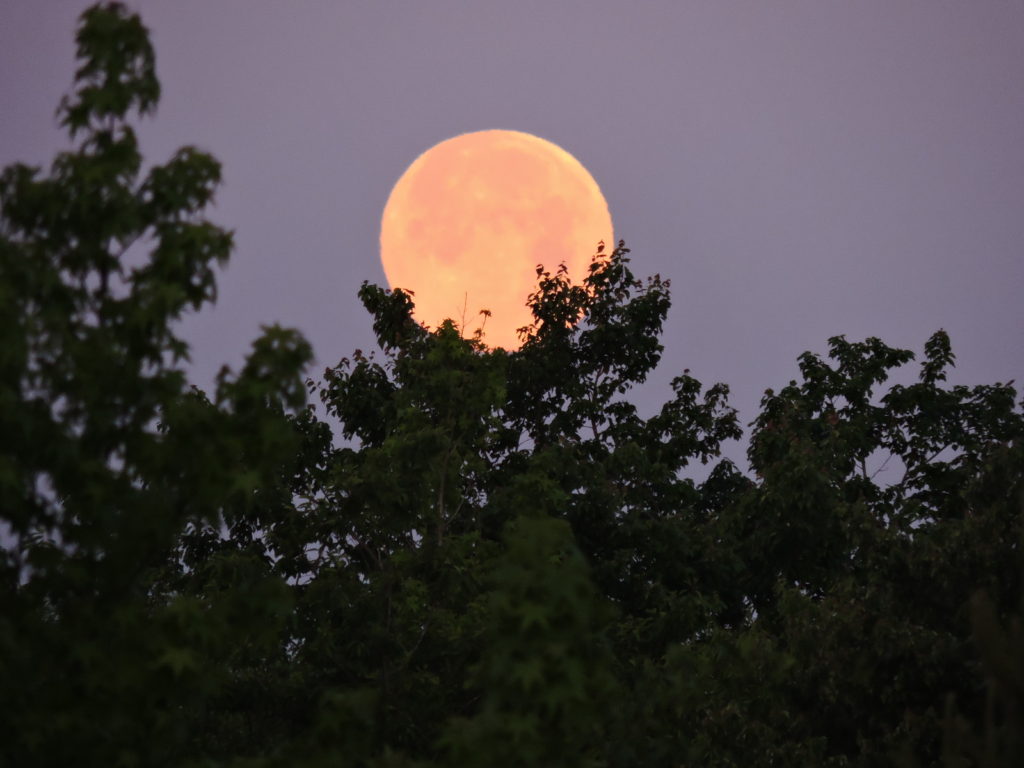 Vass, NC
"Supermoon 2020"
On an early morning this month of May, I got to capture what is the last Supermoon of 2020. I took this creative view of the Supermoon above the trees, and looks like the tree is cradling the moon. I took this view across the street from where I live, and would love to share this photo. And to me, more about this photo is that, during the times of the Coronavirus, even though so much has changed, and in times of sadness, including changes to our daily routines, there are still the joys we can still see and enjoy that are right in front of us.
---
Corragan Valentic
Southern Pines, NC
"Raven"
Microns on Bristol Board. Hearing covid 19 sounds similar to corvid. After many days of lack of sleep, I decided to still be creative while unable to do my tattoo work.
---
Mary Wright
Southern Pines, NC
"For the Love of Flamingos"
The love of flamingos has been with me since college art school, when I did a series of work in creating a retail shop that I titled "Flamingo Hats." We were to create a logo, shopping bag, brochure and billboards to promote our shop. Therefore, I had to study flamingos and their habitat, the way they walked, the way they flew and communicated with each other. This became a way of life for me my senior year in college. It goes without saying that friends and family began to gift me flamingos and continue to do so. I continue to have a passion for their beauty, grace, movement, colors, and unique personality. I can create them now, to inspire others, through my paintings. This entry is 36 x 48 acrylic on canvas with glazes and texture.
---
Rick Martinez
Vass, NC
Untitled
My name is Rick Martinez. I'm a resident artist at ARTworks Vass in Vass, NC. Due to the current quarantine, ARTworks Vass has been closed. I am a mixed media artist and will be finishing my degree in Digital Imaging and Photography. This piece was created using LED lights and a Macro lens on my camera. Since the quarantine I have been experimenting with macro photography because of the limited supplies and space needed. I love how everyday things can be seen through a different perspective by the use of creative lighting. This image is a thumb screw on miniature vise. The portion in the image is about the size of dime.
---
Julie Borshak
Southern Pines, NC
"Queen Bee" Mask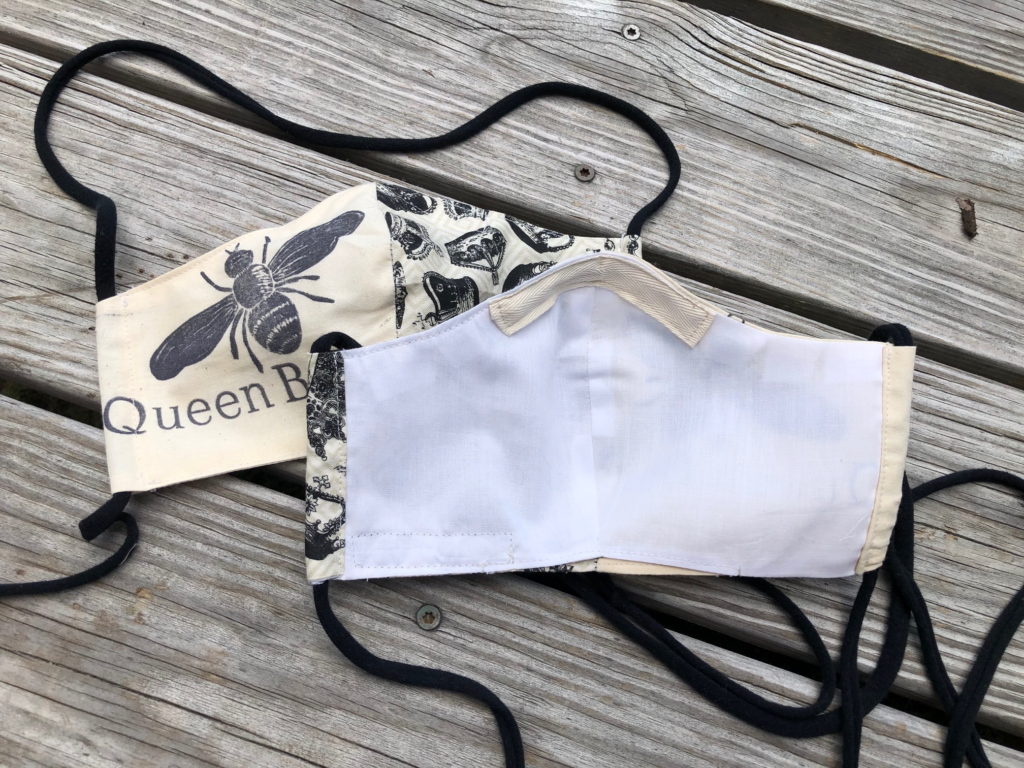 When the pandemic hit, I looked for some way to make a difference and help my community. I immediately started making masks to donate to people on the front lines. I have made and donated 150 masks to date. To fund my efforts, I am making hand stamped, high quality masks for those who want to make a statement with their face mask. This one is entitled "Queen Bee" and it is made of 100% cotton. The stamp was designed and cut by the artist. They are for sale in my Etsy site and at @artworks in Vass where I am a resident artist.
---
Paige & Parker Fusonie
Pinehurst, NC
"American Gothic Recreation"
Recreation of the famous painting, "American Gothic," by Grant Wood.
---
Eugene Cottrell
Sanford, NC
Director of Bands
at Pinecrest High School
"Crunchy Red Cricket"
Just a beautiful bird that had caught dinner for the babies.
---
Rich Flanegan
Pinehurst, NC
"The Wild Cost of the Carolina's"
24×48 Oil on museum profile canvas of the wild Carolina coast.
---
Elizabeth Robinson
Southern Pines, NC
"Hidden Talent"
This was a painting gone wrong that in the end went right!
---