When:
September 28, 2021 – October 29, 2021
all-day
2021-09-28T00:00:00-04:00
2021-10-30T00:00:00-04:00
Contact:
Arts Council of Moore County
910-692-2787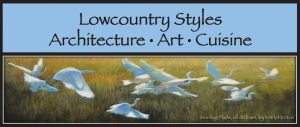 LOWCOUNTRY STYLES: Architecture • Art • Cuisine

Discover the world of Southern elegance through its architecture, art & cuisine as the Arts Council of Moore County presents a wonderful series of Lowcountry experiences, headlined by Master Chef Nathalie Dupree. This week-long program explores the influences of the Lowcountry's culinary & architectural styles and concludes with the Arts Council's art exhibit dedicated to the rich character of the coastal Carolinas. Join us to celebrate the spirit of the Lowcountry right here in the Sandhills.
SCHEDULE OF LOWCOUNTRY EVENTS:
September 28 | 6pm | Sunrise Theater | Free
Lecture: Charleston Architecture: History, Sustainability & the Future with Patrick Web, Christopher Liberatos, Jenny Bevans, and Roderick Brower & Together-N-Unity Choir.
September 29 | 4pm | SCC's Little Hall | Free | RSVP 910-692-2787 (space limited)
Cooking Demo: Lowcountry Cooking Demonstration with Nathalie Dupree
September 30 | 12pm | 195 Restaurant | $55/person | RSVP 910-692-2787 (space limited)
Luncheon: Lowcountry Luncheon at 195 American Fusion with music by Dr. Ryan Book
September 30 | All Day | Various Moore County schools
Children's Author: Kelly Starling Lyons visits various Moore County Schools
October 1 | 10am | Moore Montessori Auditorium | Free
Talk & Book Signing: Food Heritage of the Lowcountry with Nathalie Dupree
October 1-29 | 9a-5p | Campbell House Galleries | Free
Art Exhibit: Lowcountry Styles, featuring art by Evelyn Dempsey, Carol Ezell-Gilson, Jill Hooper, Mark Horton, Alana Knuff, Ron Anton Rocz, and Patrick Webb
Masks & physical distancing requirements vary according to venue.
For details on each event, please visit www.MooreArt.org/Lowcountry-Styles.