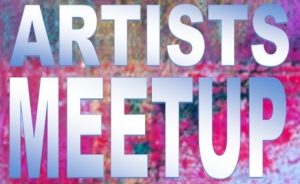 The Arts Council of Moore County invites all Moore County's artists–actors, dancers, graphic designers, musicians, photographers, singers, visual artists, writers, and other creative types–to join us for Artists Meetups. These Meetups are for artists to get to know each other, aspire to be better artists through shared creative passions, and improve our community through the arts.
Our next Artists Meetup:
Open Mic Night at The Given
HOST: The Given Book Shop

DATE: Thursday, July 25, 2019 | 6-8 PM
LOCATION: The Given Book Shop, 95 Cherokee Rd., Pinehurst, NC
COST: Free
PROGRAM: The Given Book Shop will once again host an Open Mic night for our Artists Meetup. Snacks and beverages will be provided.
---
UPCOMING ARTISTS MEETUPS:
Wed., September 11, 2019 – 5-7pm – "Through the Eyes of Others" at Hastings Art Gallery in SCC's Boyd Library (3395 Airport Rd., Pinehurst). Learn about the Hastings Arts Gallery and see the Sandhills Photography Club Exhibit.
---
To get the latest on our Artists Meetup, click on the Meetup.com link below and join us: