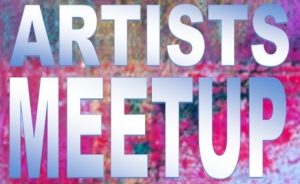 The Arts Council of Moore County invites all Moore County's artists–actors, dancers, graphic designers, musicians, photographers, singers, visual artists, writers, and other creative types–to join us for Artists Meetups. These Meetups are for artists to get to know each other, aspire to be better artists through shared creative passions, and improve our community through the arts.
Our next Artists Meetup:
The Art of Creative Journaling
HOST: The Country Book Shop

DATE: Wednesday, May 22, 2019 | 5:15 to 7:30 PM
LOCATION: The Country Book Shop, 140 NW Broad St., Southern Pines, NC
RSVP: Call 910-692-2787 – Limited seating
COST: Free
PROGRAM: Kimberly Daniels will speak to inspire you to start or continue creative journaling. Light refreshments will be served.
---
UPCOMING ARTISTS MEETUPS:
Thu., July 25, 2019 – 6-8pm – Open Mic at The Given Book Shop
---
To get the latest on our Artists Meetup, click on the Meetup.com link below and join us: